San Miguel de Allende listed in T+L's the Friendliest Cities in the World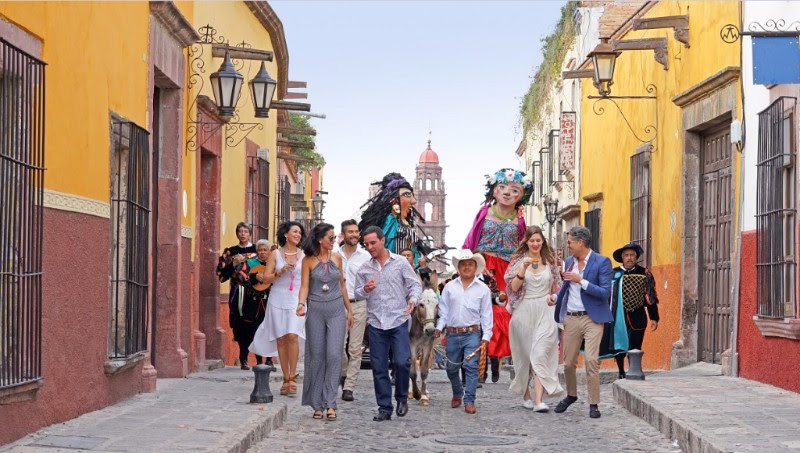 March 10th, 2017 - New York --Travel + Leisure magazine announced that San Miguel de Allende has placed number 4 in its World's Best Awards 2016 "Friendliest Cities in the World" category. The colonial city has already been named "No. 1 City in Mexico and Central and South America" and No. 3 in the overall category of "World's Best City" and it was also included in the 10 Best International Cities for Food. The awards were determined by readers of the publication, who were surveyed from Nov. 2, 2015 to Feb. 29, 2016.

"It is an honor for San Miguel de Allende to be recognized in this category as it is a recognition of all our inhabitants who work to be an example of tourism at the highest level," said Ricardo Villarreal, Mayor of San Miguel de Allende. "Seven out of 10 jobs in our city are directly related to tourism and services around it and the inclusion of our city in this list shows that we are doing things right."

"San Miguel de Allende is a beautiful city, where tourist and [local] alike greet one another daily with a smile," observed an impressed T+L reader in the magazine's brief on the city. "This UNESCO World Heritage site in Mexico, beloved for its rich arts scene and colonial architecture, also makes guests feel right at home."

"This is an exceptional accolade for us to receive because we see San Miguel Allende as a welcoming destination where everyone is welcomed to experience a little part of Mexico" said Guillermo Gonz√°lez, Director of the San Miguel de Allende Tourism Board. "It is also a great gift as we prepare to celebrate the city's 475th anniversary."

San Miguel de Allende is named after General Ignacio Allende, one of the fathers of Mexico's independence. The city dates back to 1542 when it played an important role in the country's silver trade. San Miguel de Allende's historic center encompasses 24 blocks of walkable and welcoming streets, alleys, and paths without any traffic lights.

Located in the Bajio region of Mexico, in the state of Guanajuato, San Miguel de Allende has enjoyed a favorable reputation because of its colonial architecture, year-round spring-like climate, colorful cultural celebrations, gastronomy and romantic setting. In recent years, it has become an important tourist center for Mexico and the world.

The town has a mystical quality. Its picturesque cobblestone streets and colonial architecture -- combined with colonial-era traditions both religious and secular, a spectacular natural setting and the vibrant Mexican culture -- are only enhanced by the embrace of all its many facets by both the friendly locals and the diverse, melting-pot population comprised of hundreds of expats, representing 63 nationalities, who have made San Miguel de Allende their home.