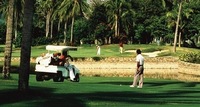 With an investment of over 3 million dollars, The >Fairmont Pierre Marques Golf Course has finalized the last phase of an extensive renovation program, supervised by world-renowned golf designer Robert Trent Jones Jr.
Improvements to the course include: the installation of Seashore Paspalum grass, the expansion and contouring of lakes, and the installation of a world-class, double ended practice facility. This new design reflects the Jones' legacy and offers players a renewed challenge steps away from the Pacific Ocean.
Originally designed by Percy Clifford, the course was remodeled by Robert Trent Jones Sr. for the 1982 World Cup Championship. With the redesign of 65 sand bunkers, and additional 300 yards in length, Jones placed a premium on accuracy from the tee, and precise shots into the well guarded greens. As testament to the challenge created, the winning individual score for the tournament was just 3 under par.
Telephone: 011 52 (744) 435-2600
FAX: 011 52 (744) 469-10146
E-MAIL: pierremarques@fairmont.com@fairmont.com

Have you played this golf course? You can leave a star rating and a review below, or post a
comment or question
.